30 Nov update:

8 weeks has zoomed by and we have a winner in the TagTeam Zumba 8 week challenge!

Tash Lord won the challenge lossing an incredible 10.8kg and 7.78%

in the process. Tash credits her loss to changing her eating habits and upping her cardio. Well done on your focus Tash! In second place is another Tash (Forest) who's shaped has dramatically changed during the 8 weeks. Just pipping Ruth into 3rd place is Alana who's continued her loss in this second round of the challenge. Ruth has also done a great job maintaining her fat loss over the past 16 weeks. Ami's made a good start to her life changing plan and we encourage her to keep going!

Prizes from Balance!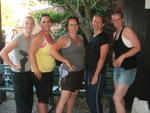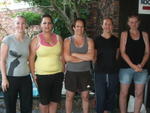 Challenge survivors Alana, Ami, Tash F, Tash L, Ruth
Tash Lord: Before

8 weeks later




Tash F before


Alana before


Ami before and after Ruth before and after
12 Oct
Weight kg
Bodyfat%
1st week
9 Nov

Bodyfat%
4th week
% diff
loss
30 Nov
8th wk
Final
Fat%
Final
% diff
Tash L
80.5
28.53
69.2
20.75
7.78
Alana
65.9
24.26
63.8
22.67
1.59
62.6
22.21
2.05
Ami
96.4
35.08
93.2
32.33
2.75
93.9
33.64
1.44
Ruth
76.2
17.06
73.6
14.78
2.28
72.8
15.03
2.03
Tash F
76.9
32.69
75.9
28.94
3.75
74.4
29.56
3.13